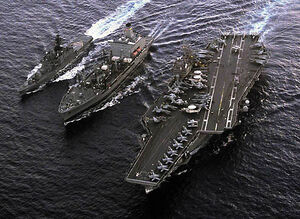 The First Naval War was the first to be completely based in the ocean. It was one of two wars to occur in the ocean, and involved some of the biggest naval assemblies known to Human history.

The war was sparked when France dared to challenge British naval supremacy, sparking a war for control of the seas.
The war started in November 1, 2012 and ended on August 3, 2013.
First Naval War

Previous:

Libyan Civil War

Concurrent:

War on Terror, Afhganistan War

Next:

Chino-Japanese War
Great Ocean War

Beginning:

November 1, 2012

End:

August 3, 2013

Place:

Pacific, Atlantic Ocean

Outcome:

French Navy left crippled, British Navy remains the rulers of the seven seas.

Factions:

France and Britain

Commanders:

French FLEETCOM, British FLEETCOM

Strength:

Unknown, likely thousands of warships on both sides.

Casualties:

Hundreds of ships sunk, thousands dead. British maintain minimum losses. French receive maximum losses.

Aftermath:

French ability to wage naval war is severely crippled, British ships are put on watch to make sure France does not invade.
Supremacy challenged (November 1, 2012)
Edit
Ad blocker interference detected!
Wikia is a free-to-use site that makes money from advertising. We have a modified experience for viewers using ad blockers

Wikia is not accessible if you've made further modifications. Remove the custom ad blocker rule(s) and the page will load as expected.