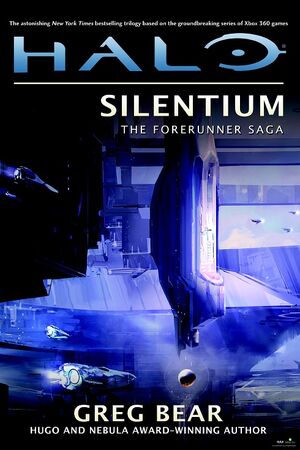 Halo: Silentium is going to be the third and final installment in the Forerunner Saga and is the sequel to Halo: Primordium.
Halo: Silentium

Author(s):

Greg Bear

Publisher(s):

Tor Books

Date Released:

January 13, 2013

Length:

N/A

Availability:

N/A

Price:

Following Prices Apply

US:

TBA

Canada:

TBA

UK:

TBA
In the last years of the Forerunner empire, chaos rules. The Flood—a horrifying shape-changing parasite—has arrived in force, aided by unexpected allies. Internal strife within the ecumene has desperately weakened Forerunner defenses. Only the Ur-Didact and the Librarian—a husband and wife pushed into desperate conflict—hold the keys to salvation. Facing the consequences of a mythic tragedy, one of them must now commit the greatest atrocity of all time—to prevent an unmatched evil from dominating the entire universe.

As Halo Cryptum followed the story of Bornstellar Makes Eternal Lasting and Halo Primordium followed the story of Chakas, Halo Silentium follows the story of the Primordial and is said that a Gravemind will be revealed in this novel.
The orange sphere on the front cover is also seen in the Halo 4 Stage Demo (Supposedly another cryptum used by the Didact a second time).
Ad blocker interference detected!
Wikia is a free-to-use site that makes money from advertising. We have a modified experience for viewers using ad blockers

Wikia is not accessible if you've made further modifications. Remove the custom ad blocker rule(s) and the page will load as expected.