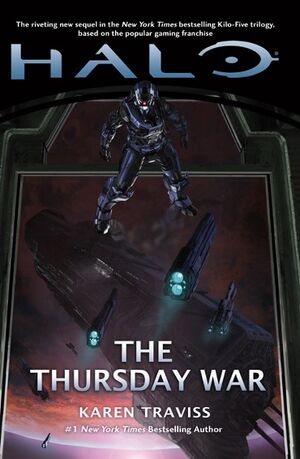 Halo: The Thursday War is the second novel in the new Kilo-Five trilogy and continues the story of Kilo-Five during the post-Human-Covenant War era. Not much is known about the book's plot or characters at this time.
Halo: The Thursday War

Author(s):

Karen Traviss

Publisher(s):

Tor Books

Date Released:

October 2, 2012

Length:

N/A

Availability:

N/A

Prices:

Following Prices Apply

US:

TBA

Canada:

TBA

UK:

TBA
It appears the ship on the cover is the UNSC Infinity which not only reveals that Halo The Thursday War will have further "resonant" connections to Halo 4, but might also detail all the events leading up to the Infinity's crash landing on Requiem.
Ad blocker interference detected!
Wikia is a free-to-use site that makes money from advertising. We have a modified experience for viewers using ad blockers

Wikia is not accessible if you've made further modifications. Remove the custom ad blocker rule(s) and the page will load as expected.